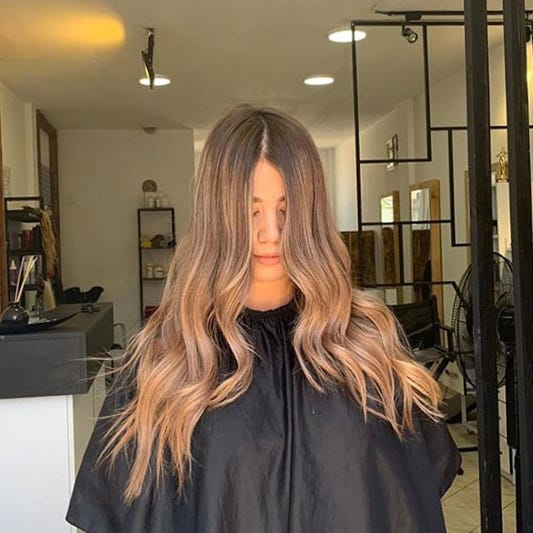 TBD
If you're looking for an easy way to spruce up or totally reinvent your look, changing up your hair color is one surefire way to do it. But with so many different styles, shades, and coloring techniques out there, choosing exactly how you want your hair to look is often the hardest part of the process.
To help you out, and save some time, we've rounded up 25 absolutely stunning hair color ideas that will give you some inspiration for your next trip to the salon. Whether you're interested in a subtle rich brunette, an icy blonde balayage, or even a colorful pastel tone, we've got you covered. And who knows? After going through these amazing options, you may just change your mind entirely.
[adinserter block="2″]
And for those brave enough to try to replicate any one of these hair color ideas at home, we've got tips for that as well!1ASH BROWN BALAYAGE
For a look that's a bit cooler-toned than your typical brunette, ask for a light ash brown balayage. The results are stunning.2MAHOGANY
A subtle balayage on dark brown hair gives it some extra depth and richness.3ULTRAVIOLET
This purple-hued hair might take time — this look took six hours to achieve — but the end result is so worth it.4RICH CHOCOLATE
There's no need to get an extravagant hair color treatment to achieve a gorgeous color. This beautiful chocolate brown is understated yet stunning.5COOL BALAYAGE BLONDE
[adinserter block="2″]
To get this breathtaking blonde, ask for a cool-toned balayage that fades lighter from a medium ash color.6PRETTY IN PINK
This soft pastel pink blends out extremely gradually, giving it a gorgeous polished look.7BLENDED CARAMEL
These blended blonde and caramel highlights make for a perfect summer or fall look thanks to their bright and rich appearance.8ICY OMBRE
This icy blonde ombre look starts from a much darker root color making it a bit easier to maintain since your grow out won't be entirely obvious.9HINT OF ROSE
These golden locks have a very subtle rose tone that makes them a bit more interesting than your typical blonde.10SUN-KISSED BRUNETTE
To get this beachy sun-kissed look, ask for a subtle face-framing balayage.11FIERY RED
If Sansa was always your favorite Game of Thrones character, this bright red hair style might be for you. This bold, straightforward red color doesn't need any intricate highlighting techniques to make stand out.12NUDE BLONDE
The perfect blend of warm and ashy, this natural look is a beautiful option for cold weather. Without constant sun, your color is more likely to stay this honey color all winter long.13DUSTY ROSE
You'll definitely stand out in the new year with this smokey ginger look, finished with a shiny gloss.14ICY PLATINUM
Tired of your platinum blonde? Give it an ashy upgrade with gray balayage.15COFFEE
This silky and smooth coffee color is complemented with soft touches of caramel balayage and is a super cozy option for winter.16CARAMEL BLONDE
If you want a more natural look, go with this dirty blonde and caramel style that features light ombre highlights.17JET BLACK
Okay, maybe it's because Jenna Dewan would look great with any hair color, but we're loving this black bob. If you look closely, you'll see that the tips of her front pieces are dusted in a lighter brown tone.18SAPPHIRE
[adinserter block="2″]
Looking for a glamorous color? You'll dazzle if you go with this sapphire shade, especially when worn with voluminous curls.19CONTRAST MELT
If you have dark hair and are looking to go lighter, but want to ease into it, try this transition from dark to ashy blonde.20GOLDEN OMBRÉ
For this ombré look to work, make sure you have a very subtle, gradual change of color from the crown of your head to the extra-blonde ends.21MARSHMALLOW
This daring color (or rather, non-color!) is light-reflecting, so you'll be sure to turn heads. But beware: This blend of white, gray, and platinum is an icy shade that requires a lot of upkeep.22SALT AND PEPPER
Salt and pepper hair tones before you go grey? Yes, it's a thing, and yes you can pull it off!23BURNT ORANGE
Part orange, part red, this fiery look will make you feel like Princess Merida from Brave.24BLEACH-TONED
While this bleached-out color is super hard to maintain, it definitely makes a statement.25NATURAL
This soft and all-natural look is designed to complement your skin tone and is a great choice if you're looking to make a subtle statement.